Link to Mama May I's Etsy Shop.
Let me start off by saying that this mama is soooo sweet and easy to work with! We had settled on the
Make a Match Memory Game
for my 4 year old try out and then she suprised me and sent a Bambino Bamboozle for my 17 month old to try out! Check out the bottom of the post for the discount codes she's willing to offer us!!
Make a Match Memory Game
I love that this game comes completely contained in a cute little bag! Anyone who knows me personally knows that I keep a backpack in my car for each kid. It is full of toys that we use for restaurants or outings where we may need to keep the kids' attention and/or keep them quiet for a bit.
First impressions: I loved the little bag they came in! It also came with directions for how to play 4 different games with the chips. Then I looked at the chips - I can't believe they were all hand drawn! That's talent!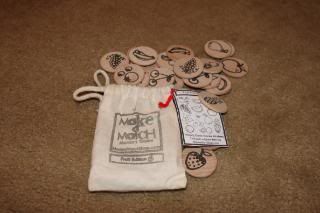 My son loves this game. When I asked him what I should write about it, he said, "I love it - it's really awesome!" He'll play this game all by himself too which is a bonus for mommy! It's really well made, the wood is super smooth and the perfect size for young hands! And a great bonus for me - it's awesome for a toy in restaurants and great to take to Great Aunt Augustine's - who only has "doilies" as toys :)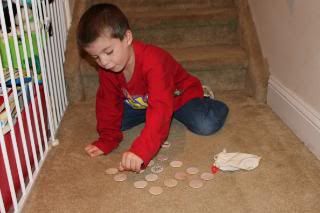 Bambino Bamboozles
This is a set of "puzzle" pieces for little ones (8months +) It comes with 4 pieces that can be placed together in different ways. It requires motor skills to place one inside the other and helps develop thinking skills and concentration as they move the pieces around and try new combinations. My 4 year old plays with them like stacking blocks :)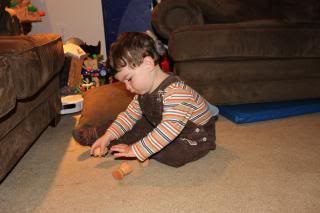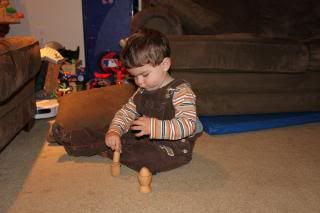 Now for the AMAZING part - we have been offered a coupon code for Mama May I's Etsy shop! Use coupon code: 10% off your order with code: GREEN10 or 15% off your order of $35 or more with code: THENIFTY15. The coupon codes will only be valid for one week, so be sure to place your order by October 12th! Let me know what you ordered - and what you like in her shop! She's got some amazing toys in there!